Welcome to the Minnesota Curling Association, an organization of over 5,000 Minnesota athletes who represent and promote the competitive yet always cordial, great game of curling.
The Minnesota Curling Association exists…
…to promote the sport of curling and unite curling clubs within the state of Minnesota;
…to conduct state curling competitions;
…to coordinate educational programs and activities for Minnesota curlers;
…to provide a channel of communication of state bonspiels, curling rules, winning techniques, equipment updates;
…and to encourage all curlers to enjoy the marvelous, unique facets of curling: honest sportsmanship, athletic competition, and social club recreation.
Two-minute Introduction to Curling (video)
Wheelchair Curling
Curling Stones from Aisla Craig, Scotland (video)

Congratulations Minnesota U18 Women's Team Ryhorchuck on Winning the National Championship in Layfayette, Colorado!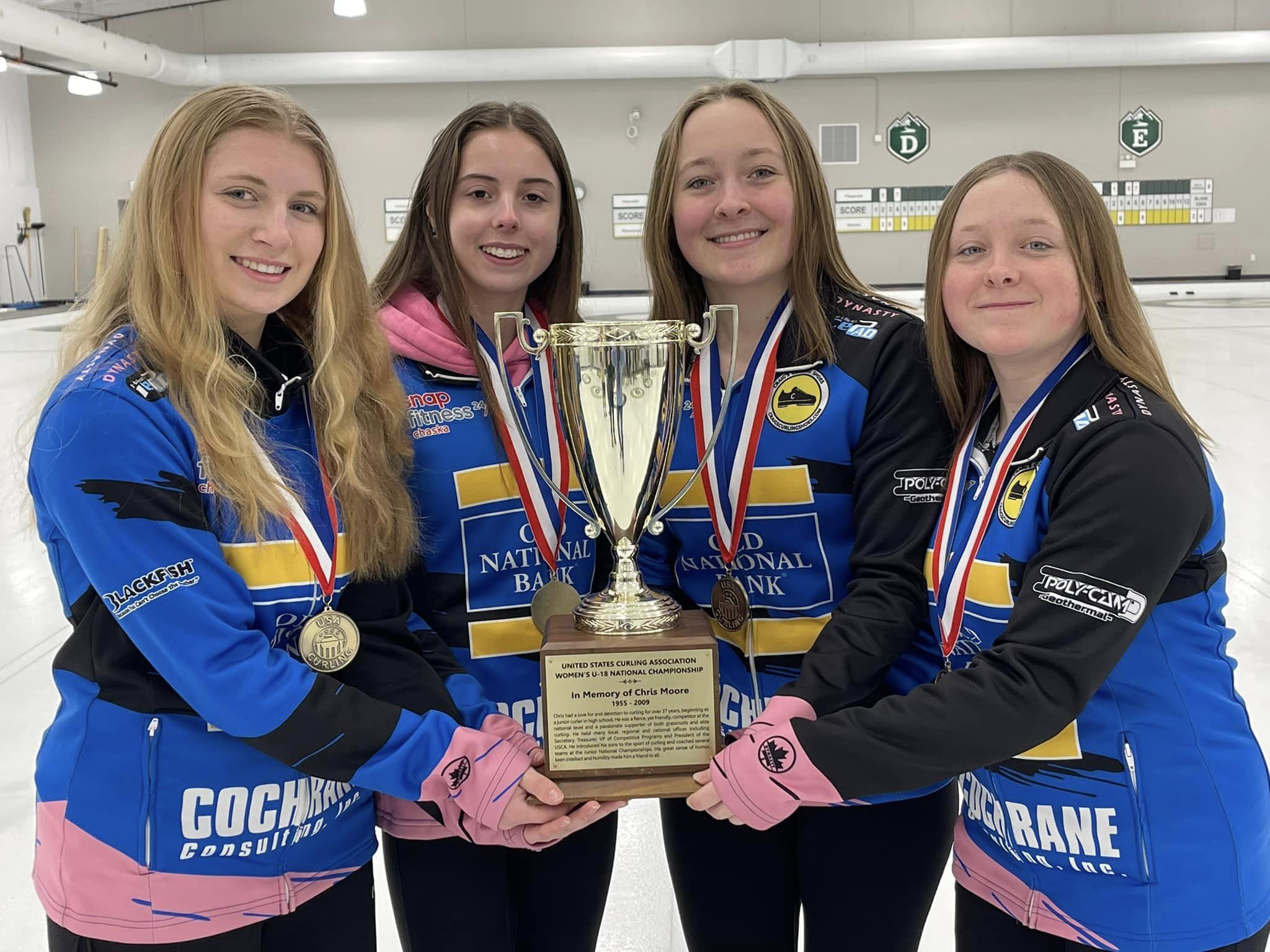 Congratulations also to Minnesota U18 Men's Team Guentzel on winning the Bronze Medal at the National Championships!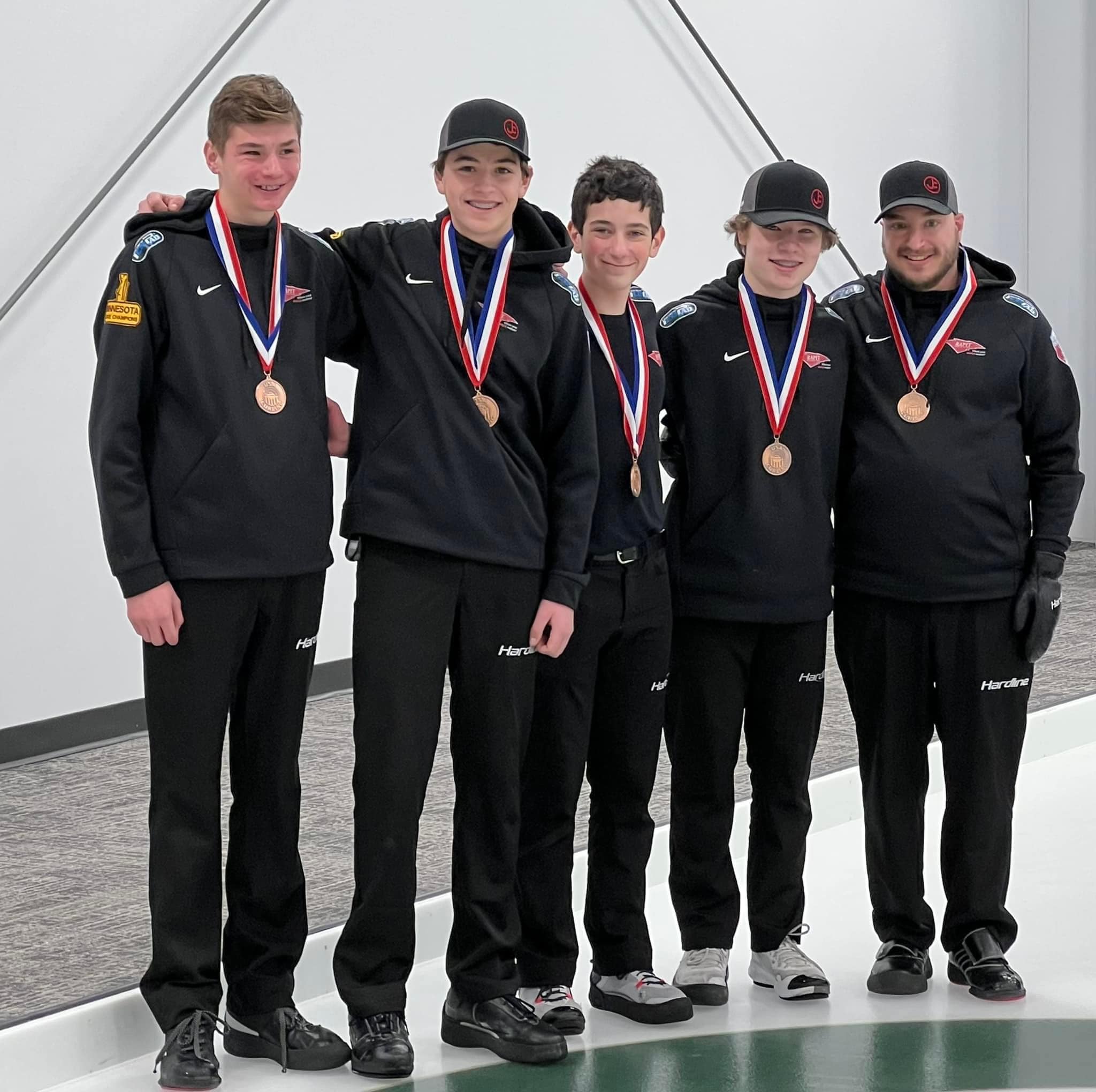 2022-2023  MINNESOTA STATE CHAMPIONSHIPS

♦ Men's and Women's State Regional Club Championships
Dates:  January 27-29, 2023
Site:  Curl Mesabi, Eveleth
Registration Process Information
Direct Link to the Sport80 Registration
Championship Contact Info:  Phil DeVore
Current and Past Champions:  Men's  /  Women's
USCA Men's and Women's Club Nationals will be March 15-19, 2023, in Wausau, WI.
♦ Mixed State Regional Championship
Dates:  February 24-26, 2023
Site:  Heather Curling Club, Mapleton
Registration Process Information
Direct Link to the Sport80 Registration
Championship Contact Info:  Phil DeVore
Current and Past Mixed Champions
USCA Mixed Club Nationals will be April 12-16, 2023, in Denver, CO.
♦ U-18 Boys' and Girls' State Regional Championships
Congratulations to the Junior curlers who participated in the Regional Championships held December 30, 2022 – January 1, 2023, at the Duluth Curling Club.
Winners of the '22-'23 Playdowns and Past Champions: U-18 Girls / U-18 Boys
USCA Boys' and Girls' U-18 Club Nationals will be January 12-15, 2023, in Lafayette, CO.
♦ Junior Men's and Junior Women's Regional Qualifiers
The US Curling Association conducts these two events.
Registration Information
Current and Past Champions: Junior Women / Junior Men



This spiel spans five Twin Cities clubs:  St. Paul, Frogtown, Chaska, Dakota, and Four Seasons.  For registration and more information on the 2023 Big Spiel, please click here.


SAFESPORT INITIATIVE
The United States Curling Association, in compliance with U.S. federal law, now participates in the SafeSport Program to raise awareness, institute prevention, and enact response measures regarding the intolerance of abuse or harassment of any kind.  All Minnesota curling clubs are required to establish a protocol for SafeSport Training for their club membership and staff.
USA Curling SafeSport


FIVE-ROCK FREE GUARD ZONE
The World Curling Federation has implemented the five-rock free-guard zone (FGZ) rule this season, replacing the four-rock rule. Many Minnesota clubs will be enacting the rule to prepare curlers for state, national, and world competitions.
The expanded rule means that the first five rocks thrown each end (normally the two rocks thrown by each lead and the first rock thrown by the second on the team without the hammer) are "protected" and cannot be removed from the FGZ between the hog line and the house until the sixth rock is thrown each end. If a rock is removed before that time, it is put back. It is permissible to move an opponent's rock as long as it remains in play.