Welcome to the Minnesota Curling Association, an organization of over 5,000 Minnesota athletes who represent and promote the competitive yet always cordial, great game of curling.
The Minnesota Curling Association exists…
…to promote the sport of curling and unite curling clubs within the state of Minnesota;
…to conduct state curling competitions;
…to coordinate educational programs and activities for Minnesota curlers;
…to provide a channel of communication of state bonspiels, curling rules, winning techniques, equipment updates;
…and to encourage all curlers to enjoy the marvelous, unique facets of curling: honest sportsmanship, athletic competition, and social club recreation.
Two-minute Introduction to Curling (video)



ROCHESTER TEAMS CLAIM ARENA STATE PLAYDOWNS
Congratulations to the winners of the Men's and Women's 2023 Arena State Playdowns. Both teams hail from the Curling Club of Rochester and will next compete at the Arena Nationals November 9-12, 2023, in Eveleth, MN.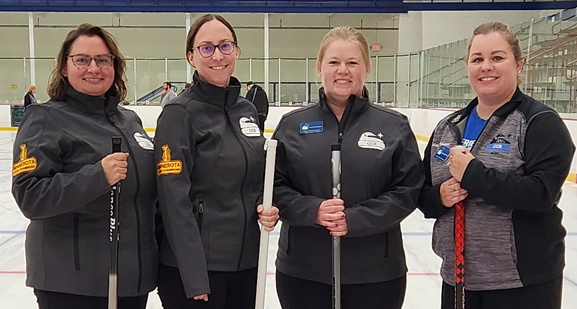 Kelsey Schuder, Susan Horsman, Laura Gardner, Kaisey Ackerman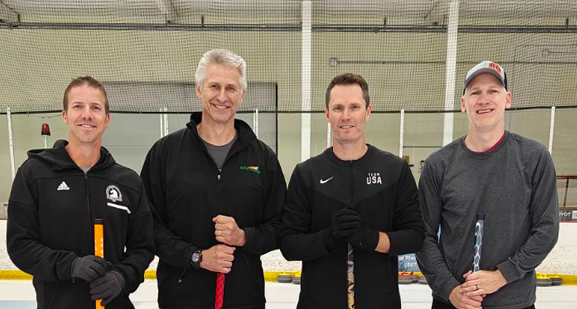 Jeremy Mcjunkin, Doug Boecker, Ryan Carrick, Adam Stallman



BUILDING A NETWORK FOR MN HIGH SCHOOL CLUB CURLING
Your Minnesota Curling Association and a volunteer Task Force are excited to announce –spinning off Minnesota's strong Junior Curling Program– the return of organized high school team curling in the state of Minnesota with an annual Championship Bonspiel in March. Young competitive curlers have the U-18 track (state, nationals, world), this is meant to be a more casual curling experience for high school-aged curlers of all skill levels.
Mark Your Calendars:
The 2024 State High School Championship will be held in Duluth, March 10-3 and in 2025 at Cambridge. It's the March Madness of High School Curlers!
We're currently creating a database that will connect Minnesota clubs for games and scrimmages, as well as provide tips for team formation and coaching resources. Clubs are asked to submit comments and suggestions using this Goggle survey. Timely completion is appreciated.



2023-2024 MINNESOTA CURLING CLUBS' BONSPIEL EVENT CALENDAR
MCA clubs' bonspiels and events are collectively publicized on the MCA website and via a printed poster mailed to all clubs at the beginning of the season. To submit 2023-2024 bonspiel info —spiel or event name, type of event (Open, Women's, Men's, Mixed, Juniors, 5+Under, etc.) dates and times, please use THIS EMAIL LINK. Info may be pasted into the body of the email or included as an attachment, whichever is more convenient.   To be included in the printed poster, info must be submitted by August 15th.  Any questions or suggestions may also be sent to MnCurlingCalendar. Thank you.



UPDATING 2023 CLUB LEADERSHIP CONTACT INFO
As we continue to refine the priorities of MCA tasks and services, one topic that rises to the top of the list is good communication. In order to facilitate that communication regarding clubs' activities, membership meetings, special interest meetings, and general updates and news, accurate contact information is needed. Each Minnesota club is asked to please help update the contact information roster by COMPLETING THIS FORM.  Thank you.

Congratulations to Duluth, Minnesotans Cory Thiesse and Korey Dropkin for capturing the gold medal at the 2023 World Mixed Doubles Championship held April 22 – 29, in Gangneung, Korea!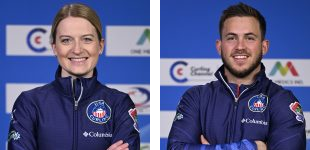 Qualifying for the playoff with a 7-2 round robin record, Team U.S. rocked Japan in the final game, 8-2. To read the final game recap article, visit this World Curling Federation web page.

Congratulations Minnesota U-18 Women's Team Ryhorchuck on winning the National Championship in Lafayette, Colorado!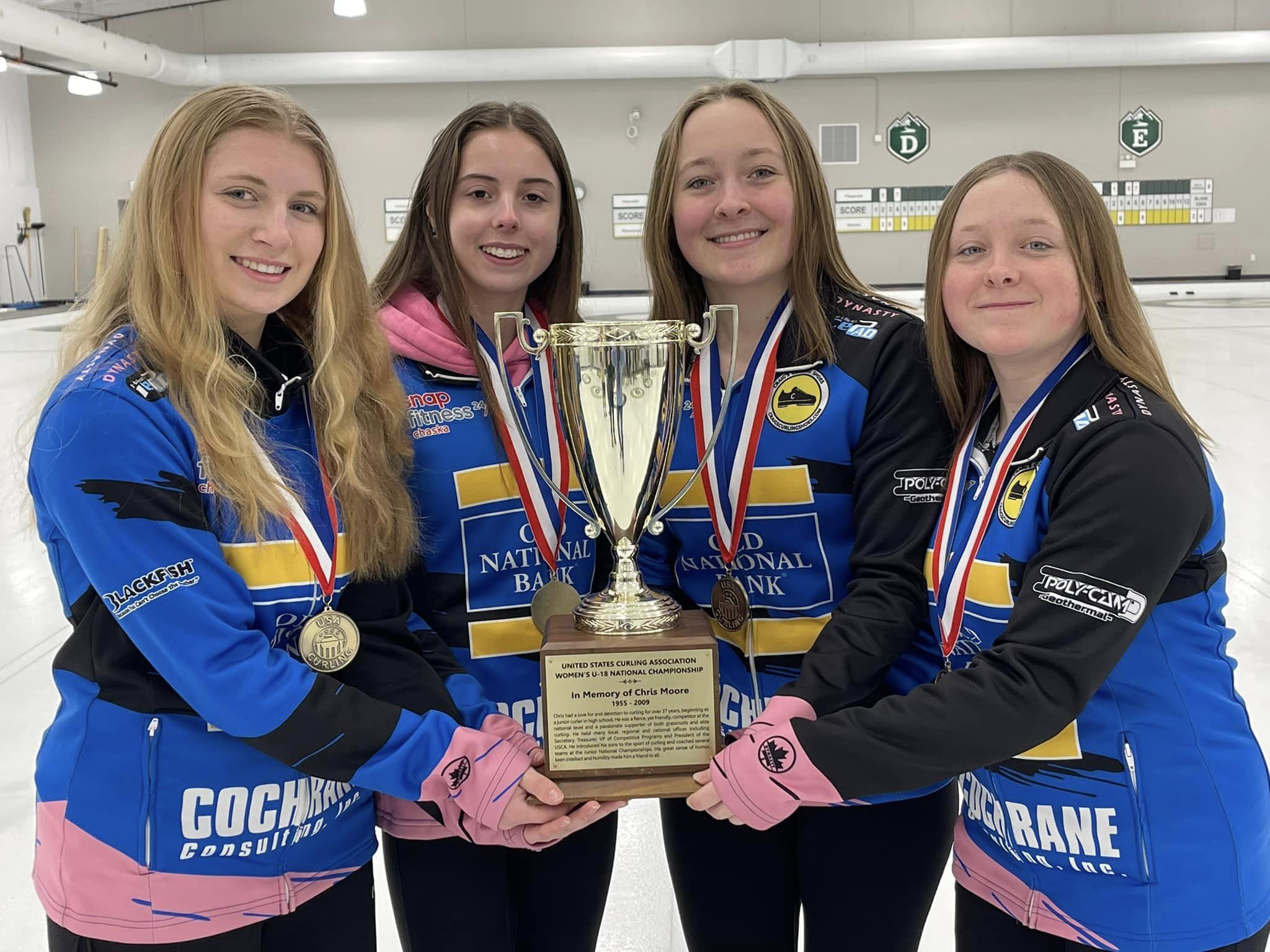 Congratulations also to Minnesota U-18 Men's Team Guentzel on winning the Bronze Medal at the National Championships!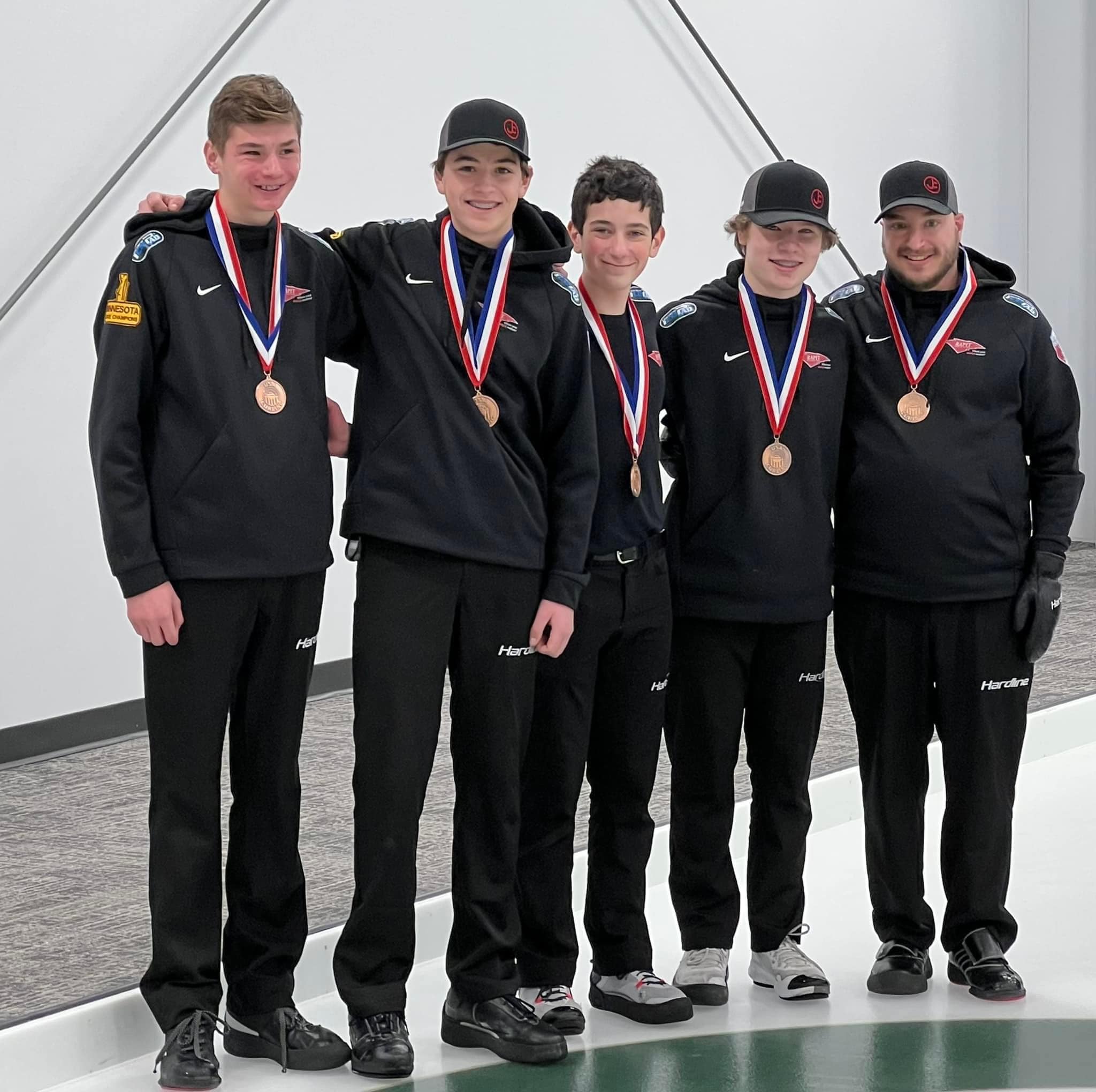 2022-2023 MINNESOTA STATE CHAMPIONSHIPS

♦ Mixed State Regional Championship
Congratulations to the Mixed State Champions: Pete Stolt, Maureen Stolt, Evan Jensen, Kim Roden. The event was hosted by the Heather Curling Club in Mapleton, February 24-26, 2023.
Current and Past Mixed Champions
USCA Mixed Club Nationals will be April 12-16, 2023, in Denver, CO.
♦ Men's and Women's State Regional Club Championships
Congratulations to the winners of the MN State Regional Championships held January 27-29, at Curl Mesabi in Eveleth:  Team Farbelow, St. Paul; and Team Kraus, Duluth.
Winners of the '22-'23 Playdowns and Past Champions:  Men's / Women's
USCA Men's and Women's Club Nationals will be March 15-19, 2023, in Wausau, WI.
♦ U-18 Boys' and Girls' State Regional Championships
Congratulations to the Junior curlers who participated in the Regional Championships held December 30, 2022 – January 1, 2023, at the Duluth Curling Club.
Winners of the '22-'23 Playdowns and Past Champions: U-18 Girls / U-18 Boys
USCA Boys' and Girls' U-18 Club Nationals was held January 12-15, 2023, in Lafayette, CO.
♦ Junior Men's and Junior Women's Regional Qualifiers
The US Curling Association conducts these two events.
Registration Information
Current and Past Champions: Junior Women / Junior Men


SAFESPORT INITIATIVE
The United States Curling Association, in compliance with U.S. federal law, now participates in the SafeSport Program to raise awareness, institute prevention, and enact response measures regarding the intolerance of abuse or harassment of any kind.  All Minnesota curling clubs are required to establish a protocol for SafeSport Training for their club membership and staff.
USA Curling SafeSport


FIVE-ROCK FREE GUARD ZONE
The World Curling Federation has implemented the five-rock free-guard zone (FGZ) rule this season, replacing the four-rock rule. Many Minnesota clubs will be enacting the rule to prepare curlers for state, national, and world competitions.
The expanded rule means that the first five rocks thrown each end (normally the two rocks thrown by each lead and the first rock thrown by the second on the team without the hammer) are "protected" and cannot be removed from the FGZ between the hog line and the house until the sixth rock is thrown each end. If a rock is removed before that time, it is put back. It is permissible to move an opponent's rock as long as it remains in play.