Welcome to the Minnesota Curling Association, an organization of over 5,000 Minnesota athletes who represent and promote the competitive yet always cordial, great game of curling.
The Minnesota Curling Association exists
…to promote the sport of curling and unite curling clubs within the state of Minnesota;
…to conduct state curling competitions;
…to coordinate educational programs and activities for Minnesota curlers;
…to provide a channel of communication of state bonspiels, curling rules, winning techniques, equipment updates;
…and to encourage all curlers to enjoy the marvelous, unique facets of curling: honest sportsmanship, athletic competition, and social club recreation.
News and Updates from the United States Curling Association
Two-minute Introduction to Curling (video)
What is Mixed Doubles Curling?
Wheelchair Curling
Curling Stones from Aisla Craig, Scotland (video)

MINNESOTA CURLING ASSOCIATION'S ANNUAL MEMBERSHIP MEETING
All MCA member clubs are reminded of the annual membership meeting which this year will be Saturday, May 18, 2019, 10:00am – 1:00pm, at Four Seasons Curling Club in Blaine.
♦ Proposed Meeting Agenda
♦ Finance Recap and Draft Proposal of 2019-2020 Budget
♦ Proposed Bylaws Revision


ST. CROIX CURLING CENTER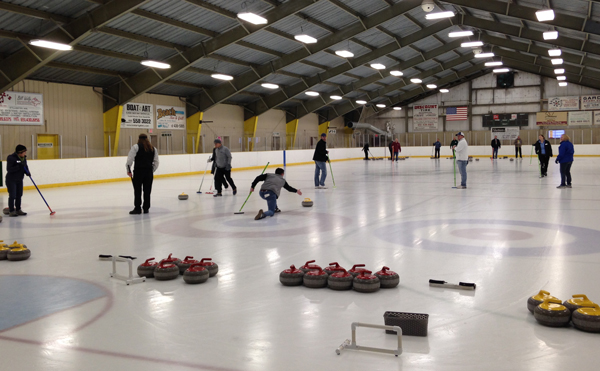 The St. Croix Curling Center completed its first year of operation after successful Fall and Winter Leagues (three Sunday draws) brought veteran and new curlers to the St. Mary's Point ice arena in Lakeland. Plans for next year's leagues and for an eventual dedicated club are ongoing. For more information, please visit SCCC.

SAFESPORT INITIATIVE
The United States Curling Association, in compliance with federal law, now participates in the SafeSport Program to raise awareness, institute prevention, and enact response measures regarding the intolerance of abuse or harassment of any kind.  All Minnesota curling clubs are required to establish a protocol for SafeSport Training for their club membership and staff.
Information Letter from Rick Patzke, USCA CEO
Adopted SafeSport Code
SafeSport Background Check
SafeSport Training FAQ
SafeSport Training Online Technology FAQ
How to Begin SafeSport Training

2019 SENIOR NATIONALS
Congratulations to our Minnesota curlers who represented the United States at the World Senior Curling Championships in Stavanger, Norway, April 20 – 27.
Women's National Champions: Margie Smith, Norma O'Leary, Debbie Dexter, Shelly Kosal
Men's National Champions: Geoff Goodland, Mike Fraboni, Dan Wiza, Pete Westberg, Todd Birr

MIXED STATE CHAMPIONSHIP
February 15 – 17, 2019, Dakota Curling Club —Draw Schedule and Results
Mixed National Championship, March 24-30, 2019, Denver CC in Golden, CO

WOMEN'S AND MEN'S STATE CLUB CHAMPIONSHIPS
January 18 – 20, 2019, Curl Mesabi —Draw Schedule Results Men's / Women's
Duluth's Kraus Rink wins Silver Medal at National Club Championships.

Under-18 JUNIOR WOMEN'S AND MEN'S STATE CHAMPIONSHIPS
December 27 – 30, 2018, Duluth Curling Club —Results
Minnesota's Tuma wins Gold; Olson team earns Bronze at U-18 Nationals.

2019 JUNIOR WOMEN'S AND MEN'S NATIONAL CHAMPIONSHIPS
January 12 – 19, 2019, Two Harbors Curling Club
Congratulations to Minnesota curlers on the victorious Junior National Championship teams.
Cait Flannery (Mankato), Leah Yavarow (Bemidji), Lexi Lanigan (Duluth) and Rebecca Miles (Duluth) — Full Story
Andrew Stopera (Briarcliff Manor, NY), Luc Violette (Lake Stevens, WA), Ben Richardson (Issaquah, WA), Graem Fenson (Bemidji), and Riley Fenson (Bemidji) — Full Story
2019 World Junior Championships, February 16 – 23, Liverpool, Nova Scotia, CA

CURLING VENDOR CONFERENCE
Cold Granite Companies will be hosting the 1st Annual Vendor Conference at Four Seasons Curling Club in Blaine, August 8 – 11, 2019. The Conference will be open to the public with retail sales from all vendors from 6:00pm Friday, August 9th to 4:00pm Sunday, August 11th.
The conference features major curling supply manufacturers and re-sellers as well as club equipment and software vendors, and a number of training and coaching-based businesses who will share knowledge of brooms, shoes, apparel, software, scrapers, stones, camps, all things curling. There will be keynote speakers as well as equipment testing and demos. For more information click HERE.

SUMMERTIME CURLING
Enjoy combining summertime vacation or travel with a bonspiel in Minnesota, around the U.S., or in Canada.


FIVE-ROCK FREE GUARD ZONE
The World Curling Federation has implemented the five-rock free-guard zone (FGZ) rule this season, replacing the four-rock rule. Many Minnesota clubs will be enacting the rule to prepare curlers for state, national, and world competitions.
The expanded rule means that the first five rocks thrown each end (normally the two rocks thrown by each lead and the first rock thrown by the second on the team without the hammer) are "protected" and cannot be removed from the FGZ between the hog line and the house until the sixth rock is thrown each end. If a rock is removed before that time, it is put back. It is permissible to move an opponent's rock as long as it remains in play.

MEN WIN GOLD AT WINTER OLYMPICS!
2018 Winter Olympics highlights from the World Curling Federation and the United States Curling Association.
2018 Winter Paralympics Men's and Women's teams finish fourth and fifth.